WHY CHOOSE AN EDEN POOL?
PURE AND CHEMICAL-FREE WATER

no sore eyes, dry hair, or itchy skin

LOW HEATING COSTS

pools are naturally and efficiently warmed

LOW MAINTENANCE

clean only once a year

LOW ONGOING COSTS

as opposed to traditional pools

DRAWS ABUNDANT LIFE POOL-SIDE

plant and wildlife are encouraged into area

ENVIRONMENTALLY FRIENDLY

helps create an ecologically balanced self-cleaning ecosystem

GREATER HOUSE RESALE

as compared to those with traditional swimming pools

MOSQUITO FREE

YEAR-ROUND BEAUTY AND ENJOYMENT

HIGH WATER QUALITY*

means a nurturing, healing and energising aquatic ecosystem

LESS POWER REQUIRED

Power required to support the pump is approximately 60% less than a traditional pool's filter requirements
*Natural water chemistry is complex. Every body of water is changing constantly, so no two natural pools will be exactly the same. Furthermore, the design and construction of each pool along with the influence of natural elements such as season, rain, and debris blow-in, all contribute to your pool's water chemistry.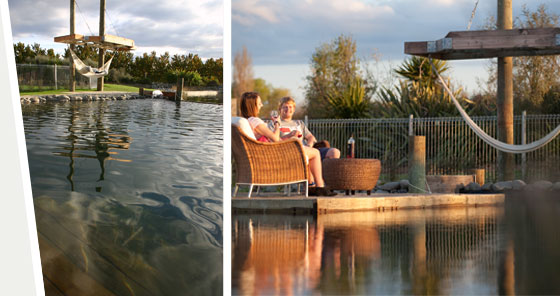 NATURE JUST CAME CLOSER
We stand behind our claim that after installing an Eden Natural Pool, "nature just came closer". Not only do our pools function naturally, constantly purifying and oxygenating, but the water in our pools remains clean, clear and soft on your skin year-round. With either our Earth Wall or Concrete Wall options, you can have a natural, harmonious and tranquil aquatic landscape on your property that will create memories for years to come.
NIWA TEAM VISIT
NIWA scientists Dr. John Clayton and Paul Champion have been involved in the development of the natural pool system for Eden Natural Pools. The system relies on a scientific base. They comment:
"We were really impressed with the concept of using aquatic plants, especially native species to provide an aesthetically pleasing natural swimming pool and pond. We are keen to promote the use of native species as alternatives to introduced plants, many of which are now problem weeds. Your pond set-up is spectacular with the decking extending over the clear water pond and we love the way the pond vegetation linked to terrestrial plants on the margins."
FISH AND GAME ENDORSEMENT
"One of our goals is to establish natural environments and wetlands. Eden Natural Pools have demonstrated they can set up a wonderful pond environment within the bounds of a home by smart use of plantings and engineering."
From John Cheyne and Pete McIntosh Hawke's Bay region.